Bedford A won the Cordon Trophy last night, scoring 13/16.  Captain Paul Habershon received the trophy from the arbiter Adrian Elwin who organised the competition with his usual aplomb.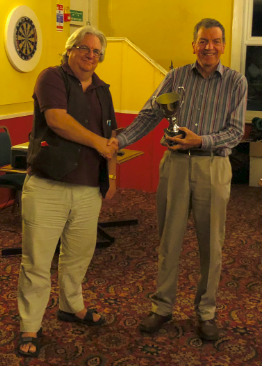 When a "rusty" Steve Ledger contributes least to Bedford A (with a still respectable 2/4),  you know you will be competing for the prizes.  Mindaugas Beinoras (4/4), Paul Habershon and Richard Bodily (both with 3.5/4) made sure although Richard's adjective to describe his own performance, despite swindling his way to 3.5, was apparently colourful.
Bedford B finished 5th with Toby Cox scoring 3.5/4, only drawing with Paul and beating Kevin Williamson.
Bedford C were 6th thanks mostly to Qais Karimi who scored 4/4 including wins against Steve's Law and Ledger.
Bedford D were 7th with Alex Taylor scoring 3/4 on top board.
All in all, a very enjoyable evening, with 4 clubs fielding 8 teams, to launch what promises to be an interesting season.
Detailed results maybe found here.